Planning to throw a milestone party or co-ed shower or any adult party? Here are some cool games for couples at your party. Set the tone with stunninng personalized party invitaitons. Then take a peek at these great couples party games. They will keep your guests engaged and will leave an everlasting impression on them.
Couples Party Game Ideas
How much you know your Sweetheart: This is a fun game to play with couples. Hand out two sheets of paper to each of your guests. Then ask them to write 5 things they like on one sheet of paper, and 5 things their partner likes on the other sheet of paper. The list could include anything from food to books to movies, or even vacation spots. The couple who gets the highest number of matches wins the game.
Couples Games -Ring Fun: For this game take a bowl filled with milk or some dark liquid and throw a few rings in it. Now ask a couple to take off their rings and throw them in the bowl with the other rings. Then they have to put their hands in, feel the ring of their partner, and without seeing take it out. Both of them go together and are allowed to take their hands out only once. Time the contestants and the couple who finds the right rings in the shortest time, is declared the winner.
The Tattoo Games For Couples: You can ask your guests to make a nice tattoo on their partner's arm. For this you will need to prepare some body paints, face paints, or body markers to decorate with. You will also need to have some towels or washcloths on hand for any cleanup. After all the guests have made their tattoos, have everyone admire each others tattoo and vote for their favorite. The couple with the highest voted tattoo wins the game.
Dinner Party Invitations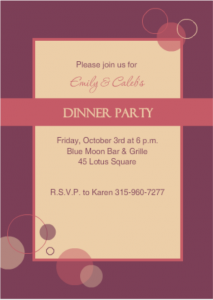 Dedicate a romantic song to your sweetheart: Ask your guests to sing a romantic song for their sweetheart. This will make your guests feel involved and it will keep everyone entertained. You can pick 3 to 4 individuals as judges, and ask them to rate the competitors. The judges can rate the contestants on their enthusiasm, the song that they choose, and how well it is presented. The couple who gets the highest rating wins the competition.
Make a Love Poem : This is a great game to play with the couples at your party. Start by getting some index cards and one each one write romantic words like hearts, lips, candlelight etc. On the other set of cards write some non romantic words like ironing board, wallpaper paste, nose hair, motor oil etc. Then ask the couple to draw one card each from the set of romantic index card and non romantic index card. Then ask the couples to come up with an interesting love poem. Like "Roses are red, they make me hot! Your eyes are sexy, your nose hairs are not!". The couple who comes up with the most romantic poem turns out to be the winner.
Have a spectacular party! We would love to hear from you. If you have more party ideas, please send them to us at partyexperts@purpletrail.com.
Comments
comments