The festive holiday, season is just around the corner and entertaining friends and family during Christmas is one of the perks, of the holidays. As you prepare the holiday Christmas cards you're sure to be starting to plan Christmas dinner. And that means it's time to prepare some delicious food and have the family members going back home with smiles on their faces. Here are some cool Christmas party food recipes to make the event exceptional and memorable.
Christmas Party Invitations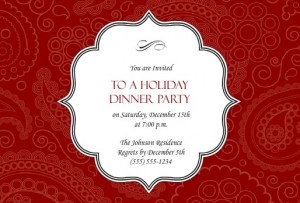 , Christmas Party Food Recipes
Appetizers
Starting with some good appetizer is the best way to impress your guest. Don't make the mistake of getting those skimpy, skinny shrimp. Perfect appetizers should be a great ice breaker and will get your dinner off on more than the right foot.
Herbed Chevre Spread Recipe: This is a delicious topping on crackers or toasted slices of baguette. Use any leftovers on a bagel or sandwich topping. Serve with sliced apples, pears and grapes. (Recipe…)
Smoked Salmon Rolls: These Salmon Rolls compliment your menu for any holiday party or gathering. Try them out for a new kind of appetizer this Christmas. Or just make them because you love smoked salmon. That's what I like to do! (Recipe…)
Sizzling Cranberry Dip Recipe: Check out this delicious Sizzling Cranberry Dip recipe. You can Serve it as a hot dip for chicken wings, cocktail franks or turkey and impress your guest (Recipe…)
Dinner/Entree
Christmas is the charming time of the year, when everyone loves cooking and entertaining the guest in the best way possible. All of us want a pretty dinner table all full of ravishing festive foods.
Chicken & Mushroom with Marcellin Sauce: This opulent recipe caught my attention because I love cheese, mushrooms and chicken meat. Saint Marcellin is a very popular soft cheese from France which is sold in pots. Due to its lemony note, Saint Marcellin goes perfectly well with a herb such as tarragon that offers bittersweet and zesty aromas of fennel, licorice and anise. (Read Recipe…)
Traditional Ham For Christmas Dinner: As turkey is traditional for Thanksgiving, so ham is traditional for Christmas dinner. The ham you find in your supermarket is almost always fully cooked and ready to serve immediately. Most people prefer to heat the ham, and a glaze adds flavor and makes for a gorgeous presentation.
Lobster with Crabmeat Stuffing: This is one of the most liked dish for a Christmas eve specially in Italian Households. A stuffing of Ritz cracker crumbs, parsley, garlic, canned crabmeat & melted butter is spooned into the cavity of cleaned lobsters and baked.(Read Recipe…)
Desserts:

Little glittering star gives a great effect and final finishing touch to the Christmas tree decor. To make it look spectacular. Similarly when hosting a Christmas dinner party, no matter how luscious the meal was it may go unappreciated without truly sumptuous dessert.
White chocolate mousse: Serve this White chocolate mousse with sparkling vodka syrup and see your guest enjoy every scoop of it. Place chocolate and butter in a bowl over a pan of gently simmering water until melted. Stir gently to combine, remove from heat. Add vodka to cooled syrup, then place in a blender with the silver leaf and blend for a few seconds until leaf is broken into small flakes. Top each mousse with sparkling syrup just before serving. (Read Recipe…)
Apple Bread Pudding with Rum Sauce: After a great Christmas dinner there is always room for some delicious dessert. Here is an excellent pudding recipe which bread pudding fans will enjoy. It is a perfect blend of apple chunks, topped with a warm rum sauce. (Read Recipe…. )
Along with impressive and delicious meal don't forget that good music and Christmas party games have their own importance and are a must to keep your guest engaged and entertained. Yes! Holiday season can be stressful but proper planning can help to a great extend. This is a great time to relax and spend quality time with your friends and family. The spirit of this season is extraordinary because of the time spent together. Merry Christmas!!
We hope you enjoyed these Christmas party food recipes. Browse our spirited collection of holiday Christmas cards.