After you send out your sleepover invitations, you will definitely be looking for some great games for your upcoming slumber party. It's always a good idea to have some go to games to play to make sure, your sleepover guests are entertained. We've found 7, surefire slumber party games for kids and teens.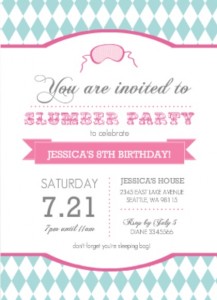 Slumber Party Games
Sleeping Bag Switch
Ask everyone to bring a sleeping bag. Once they are all laid out, ask the host to exit the room. Then, have all the other girls hide inside each other's sleeping bags (not in their own). The host must try to figure who is in which sleeping bag from just feeling around!
Movie Night, Trivia
Get all the movies in a particular series, (Harry Potter, Sisterhood of the Traveling Pants, Twilight, etc. ) and plan to watch them all! Set up snacks and lots of comfy blankets and pillows! Create a 5 to 10, question quiz, of trivia questions for each movie. Get a small prize for each quiz. After each movie, had out the trivia quiz. Set a time limit of just a few minutes. The person who has the most correct answers wins! See more slumber party tips and movie ideas.
Pictionary and Charades,
Find a theme that the guests will enjoy whether it's all about Twilight or Hannah Montana. make up several clues that can be cut up and placed in a bowl or hat. Make sure each clue is marked either "act" or, "draw". Divide guests into two teams. Make sure you have enough clues for each guest to have turn. Let the fun begin! ,
Friends 4 Ever Bracelet Making Kit
The kids will love making friendship bracelets as a fun keepsake from the sleepover. Encourage guests to bring along any bracelet making tools they may have at home too!
Red Carpet, Event
Ask everyone to bring their most glamorous attire! Roll out a red carpet as guests arrive and have a few stations setup. A hair, makeup, wardrobe and photo area. Stock the hair and make up area with inexpensive lipsticks and other fun make up. Choose an adult to be the stylist and have some curling and flat irons on hand to use. Stock up on inexpensive hair accessories like tiaras and sparkly clips. The wardrobe station should be full of fabulously patterned clothing, boas, and high heels. Put out all your dress up clothes. If you don't have many visit second hand clothing stores – they tend to have endless supplies at affordable prices! Then once everyone is ready, take photos on the red carpet. If you have a digital camera and photo printer, print out the photos to send home with the guests.
Light As A Feather Stiff As A Board
An oldie but a goodie! To realy work you need about 6 people to play. Choose one person to lie in the center faceup as the other 5 gather around. The best set up is like the following:, two people, mid-calf on each side, two people at mid back/chest on each side, and one person sits positioned behind the, head. Here comes the, fun party. Each, person, places their first two fingers from each hand and slips them underneath the person in the center. Once situated, everyone close their eyes. Then, the surrounding people begin repeating, "Light as a feather, Stiff as a board. Light as a feather, Stiff as a board. Light as a feather, Stiff as a board". This gets chanted, over and over, as they, lift the center person. It almost always works if you can keep people from giggling too much! The goals is to lift them just a few inches.
Drama, Drama, Drama
This game will be hours of fun! Put together bags of 5 random items like a party hat, a toothbrush, a roll of toilet paper, sunglasses, and lip gloss. Whatever you can find. Create enough bags to divide the kids up into teams of 2 or more. You can either fill the bags with all the same items or give each bag unique contents. Once you give the bags to the teams, tell them they have 15 minutes to create some kind of "production" to perform. Whether it's a skit, a commercial or a some kind of talent show, they have to incorporate all their items in their performance. Should produce lots of smiles and laughs!
We know you and your slumber party guests are going to enjoy these games. They are great for family game night and birthday parties too!
Need some movie suggestions for your sleepover? Check our teen movie and pre-teen movie selections.
We hope these slumber party games spice up your sleepover plans!